Regular price
$38.00
Sale price
$33.00
Unit price
per
Sale
Sold out
Ocu-GLO® Vision Supplement Powder Blend for Dogs and Cats is a comprehensive formula that provides your pet with the perfect blend of antioxidants, vitamins, omega-3 fatty acids, a mineral and amino acid that all work together to support healthy eyes and optimal vision. This supplement is formulated to protect vital cells in the eye against free radical damage, to support normal cellular health and function. Ocu-GLO® Powder Blend includes Grape Seed Extract, Lutein and Omega-3 Fatty Acids, and also Astaxanthin and Rutin for enhanced antioxidant support! Powder Blend Capsules are a great choice for pets with sensitive GI tracts, and can be given to mature cats that weigh 5+ lbs without a history of liver disease. Ocu-GLO® Powder Blend is safe for perioperative use and are much easier to mix - just open the capsule and sprinkle!
How does Ocu-GLO® Powder Blend (PB) differ from Ocu-GLO® Gel-Caps?
Our powder form is easier to mix versus regular Ocu-GLO®

 

Gel-Caps - just open the capsule and sprinkle!
Easier administration at mealtime for small dogs and cats
Formulated by board certified veterinary ophthalmologists
Includes

 

GLO®

for optimal vision health:

 

Grape seed extract,

 

Lutein and

 

Omega-3 fatty acids
Specifically formulated to support canine and feline eyes
Optimal for pets with sensitive GI tracts
Astaxanthin for enhanced antioxidant support
Safe for perioperative use in dogs, as well as cats 5+ lbs
Our feline friends have always been extremely hard to pill. Now that Ocu-GLO® Powder Blend is safe for everyday use in cats, it's very easy to give them the supplement they need! Simply crack open the capsule and sprinkle the powder. Our new formula is great tasting and will go down easily the first time.
Share
View full details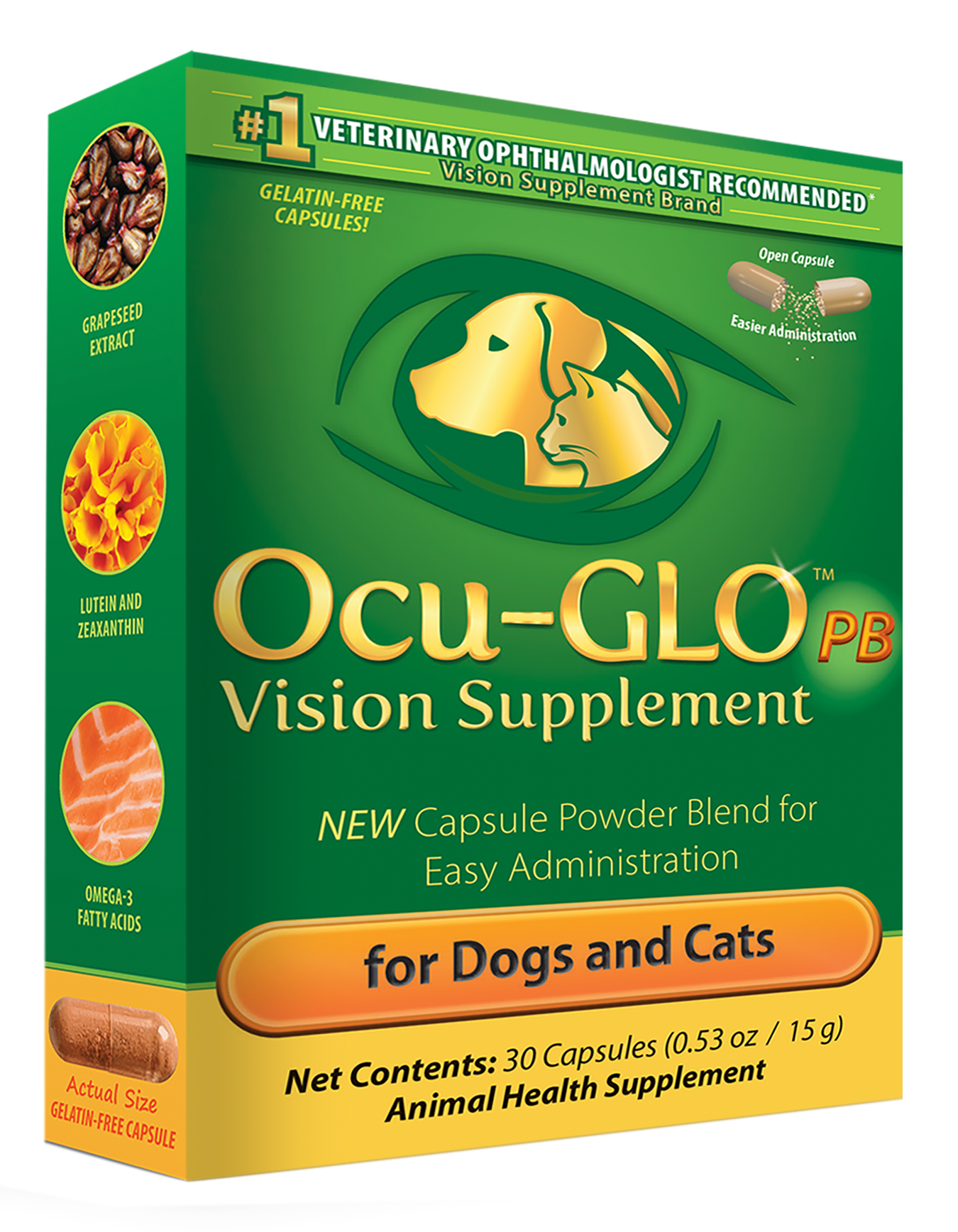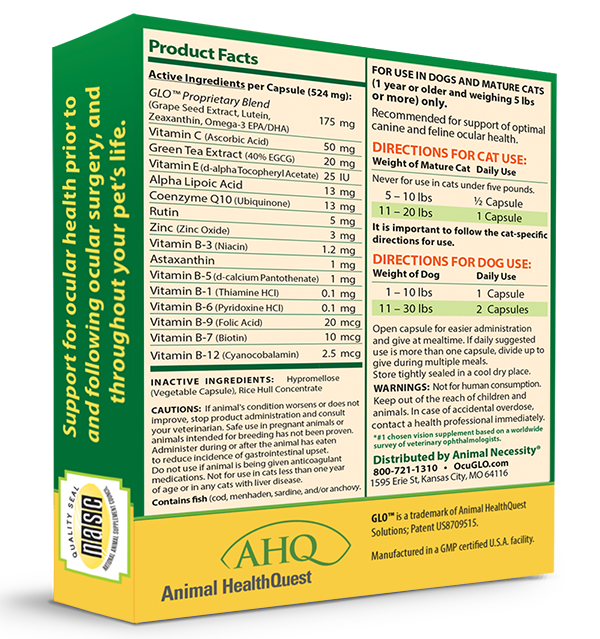 THE BEST IN ANIMAL VISION CARE
A POWERFUL BLEND OF ANTIOXIDANTS
Don't just take our word for it over
50,000,000 doses administered worldwide
Here are a few real-life success stories from pet owners who have used Ocu-GLO® and seen improvements in their pet's eye health:
REAL DOGS. REAL RESULTS!
Clinically Proven & Patented Formula
A Placebo-controlled Double-masked Pilot Study was conducted by the University of Cambridge UK and found the effectiveness of Ocu-GLO® in dogs. Click the button below to read the research.